Guide to connecting Cisco Room Systems to the One Touch Dial service.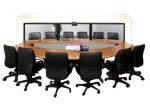 Configuring a Registered Device
Register a New Cisco Device

Note: Before you can proceed, you must first register the new device.

It may take up to 10 minutes for your calendar to appear. Please check the status of your device in the table.

Note: If using a Relay it must be connected and active for calendaring to function.
Verification Test
Establish an SSH session to port 22 and enter the following commands:
show status calendar summary
show meetings summary
Note: When you use a custom wallpaper, the clock and the list of upcoming meetings are removed from the main display.