Guide to connecting the RealPresence HDX to the One Touch Dial service.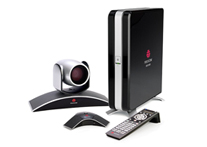 Configuring a Registered Device
Register a New Poly Device

Before you can proceed, you must first register a new device and obtain generated credentials.
Configuring the Device

Note: The Polycom Workflow Server is the recommended solution for One Touch Dial functionality supporting the HDX product family. See https://suppport.polycom.com.
Go to the management section of your device. You can get there by entering the IP address of your device into the browser address.
Example: https://<ip-address-of-hdx>/
Select Admin Settings > Global Services > Calendaring Service.
Enter the following fields:

Domain: Example OTD
Email: Example zdysgjdmwncq@otd.plcm.vc
Username: Example zdysgjdmwncq@otd.plcm.vc
Password: Example F3kDFyu1bD
Microsoft Exchange Server Address: otd.plcm.vc

Click Save. The Registration Status should display Registered and the calendar should appear in a few seconds.